Jim Bill McInteer
1921-2010
Was the Associate Minister and Sunday Morning Adult
Class Teacher at Neely's Bend Church of Christ. 2002-2010

Jim Bill was born in Franklin, Ky. attended David Lipscomb College and Harding University. He was married to the late
Betty (Bergner) for 60 years, they have two children Mark
and Marilynn and 5 grandchildren.
Jim Bill started preaching in Whites Creek, TN in 1939 and has served with churches in Sheridan, AR, Isabel, KS, Locust Grove, KY, Grace Ave. in Nashville, TN, West End in Nashville TN. and has preached in numerous Gospel Meetings. He has preached in 37 states and 9 foreign countries. Jim Bill has also authored six books and numerous tracts.
He served as President and Publisher of 21ST CENTURY CHRISTIAN and POWER FOR TODAY.
Harding University honored him by naming its new Bible Building the "Jim Bill McInteer Bible and World Missions Center".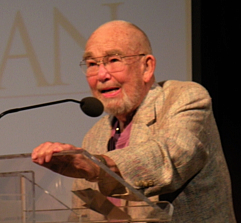 Jim Bill

McInteer

- "Prince of Preachers"

Jim Bill McInteer was lovingly and respectfully called the "Prince of Preachers" by many of his contemporaries because of his persuasive use of his wonderfull vocabulary and his uplifting messages. He shared his love of the Lord Jesus and all God's children with the Neely's Bend congregation for the last eight years of his life. Jim Bill's messages are timeless and will be appropriate and valuable for consideration until our Lord comes back.


Some of his
sermons and adult class messages have been preserved and are presented here for your consideration
.




Sermons




Bible Classes